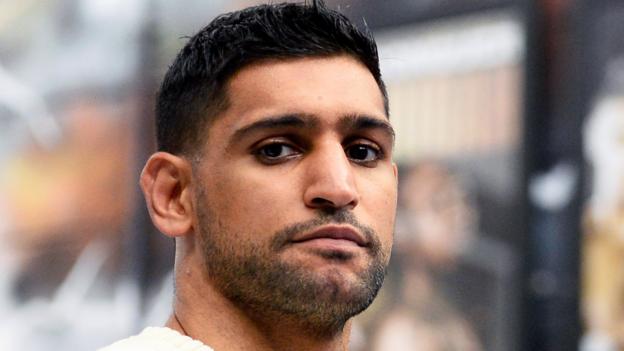 When Amir Khan hit the canvas and bounced back up before the count of three in Saturday's win over Samuel Vargas, it was a moment that encapsulated a career of highs and lows.
The 31-year-old's subsequent points win was seen by some as progress, or at the very least rounds in the bank towards his comeback after 23 months away from the sport.
Yet for others, the lesson from the bout was that 13 years as a professional have taken their toll on the former super-lightweight world champion, who now has some tough questions to answer about his future.
Speaking on BBC Radio 5 live's boxing podcast, analyst Steve Bunce asked if Khan now needed "protecting from himself".
BBC boxing commentator Mike Costello agreed that he did, while Bunce added: "I don't want to see Khan fight again."
Fear trumps poise
Khan, who did not compete between May 2016 and April 2018, ultimately won comfortably in Birmingham. It was the first time he had fought for 12 rounds since 2015 and, although he floored Vargas twice, his own knockdown brought painful reminders of the past.
Bunce: Khan boxed very well at times. When he got clipped he went down heavily and got up too quickly. He was saved by the bell. One more clip anywhere on the temple before the round is up and that fight is over.
I think he fights on fear and I think since a couple of savage defeats he has had against the likes of Saul 'Canelo' Alvarez and Breidis Prescott, he has fought on fear since then. I don't see a relaxed Khan and that's why I fear for him.
Costello: When you see him jumping up when his shorts hit the canvas, it is kind of in keeping with the tempo of everything he does. Against Vargas there were times when he would release a barrage of punches, sometimes 10 punches long.
But there didn't seem to be rhyme and reason behind them. I watched the 2004 Olympic final back and at 17 Khan had that poise, he was measured, cutting off the ring and not chasing his opponent. I wonder where that has gone over the years.
'Call time, he has nothing to prove'
Khan's win was his second under American trainer Joe Goossen and the Briton now wants to chase eight-weight world champion Manny Pacquiao, while there is also talk of an all-British match-up with Kell Brook.
Bunce: I don't want to see Khan fight again. I think he will get knocked out and hurt. But of course he will fight again, there's money and a movement to see him again. In fact some of the pundits have come out, it's like propaganda saying he needs to fight Kell Brook.
I just think he has reached that time where he will be in good fights – may win one or two – but they will become scrappier and harder and the damage will increase.
He has reached the wall, he has been at the top level a long time. He was going to junior Olympics at 15 or 16 years of age. He fought around 40 times the year he got his silver at the Olympics. The kid has nothing to prove. I just don't want him getting hurt.
Costello: I don't want to denigrate what trainers do but there comes a moment when a boxer has to take responsibility. We have spoken with Joe Goossen and he said he wanted to make Amir better at close range.
Amir spoke to me about the danger of moving away from close-quarter exchanges with your hands down. What did he do on Saturday night? Move away with his left hand by his trunks and so left a gap, down he goes.
After 14 years in the pro ranks, if he is still not covering up when he should be, I'm not sure. The best boxers make decisions about when to take aim and when to take cover. Khan, for me, has always been confused and Saturday was the same.
'Khan is in tier three at 147lbs'
Hours after Khan's win over Vargas, Shawn Porter claimed the vacant WBC world title to complete a stellar quartet of champions at welterweight. But while Khan hopes to topple one of them eventually, many fans have called for him to face Brook, who was critical of his rival's display.
Costello: The 12 rounds may have given him some advantage over Brook, who has only had a couple of rounds this year. This was a fight I have said I wanted to see. But after Saturday, I don't have that same feeling.
Khan for me now resides in the third tier of welterweights. At the top end would be WBO world champion Terence Crawford and IBF title-holder Errol Spence.
There has to be room for WBA champ Keith Thurman but he's had two successive injuries. Maybe Pacquiao is clinging to the top tier. Then beneath them you'd have the Danny Garcias and Shawn Porters before the third tier where you get Khan.
Bunce: Khan is like one of those old fight posters where it says a boxer "always comes to fight" or sells them as "never in a dull fight". Those would be under Khan's name permanently
Would I put him in with Garcia? I'm not happy. With Pacquiao? Probably not. But if they are going to chase the money, you can't criticise them, it's their prerogative.
I still think Khan v Brook is a terrific fight, though I'm not saying I want to see it.
from Trusted eNews https://ift.tt/2NwIOD1
via IFTTT