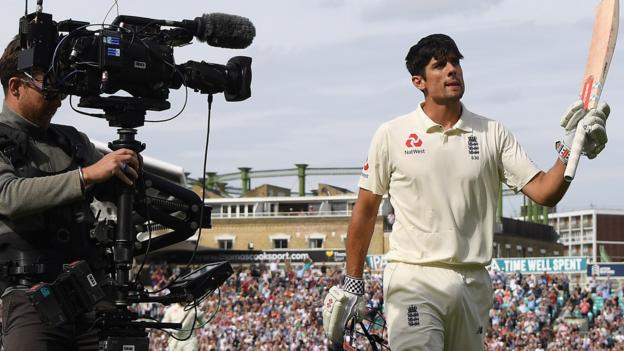 In 10 years' time, if you count up everyone who claimed to be at The Oval on the fourth day of the fifth Test between England and India, it will probably be half a million.
During a totally unforgettable day, I received a message from somebody who had never been to a cricket match before.
They took a bit of a punt on coming to the fourth day, and they think it has been amazing. And they're right.
It was an amazing day to be a cricket fan, an England cricket fan and someone who likes a bit of emotion and passion in sport.
The first people I saw in the morning were Alastair and Alice Cook. I had breakfast with Alice and she was as relaxed, as calm and as unflappable as she always has been.
She and her husband are very similar, because Alastair blocked out everything today. If there's any cricketer I've come across over the years capable of doing that in his last ever Test innings, it's him.
He blocked out the crowd ovations, the Indian players lining up to pay tribute, the build-up to the Test with all the discussions about his career.
He blocked out the fact that his mum and dad are here, that his heavily pregnant wife is here with their two young children. He blocked out the fact that all of his best mates are here in a box that he's provided.
Anyone who has played sport to a high level will know that these are things that you can get distracted by. It is easy to be distracted. Cook wasn't. He just carries on.
I think the fact that he scored 147 – his first century since Melbourne in December 2017 – is more of a surprise because of his recent form than because of the emotion around the Test.
Cook actually played really well. You can score bad hundreds – and this was a really good hundred. It was Cook playing at his best. It had straight drives and cover drives. He played his usual strokes and he batted superbly. His footwork was good, the bat was straight – he was liberated from all the things there have been issues with in recent times.
He cast all that stuff aside, went out and just batted.
Anderson poised to enter the record books
When they look back on it, today will be an immense day for both Cook and James Anderson. For Cook, it was the day he made his final Test century in his final innings; for Anderson, it was the day he drew level with Glenn McGrath's record of 563 Test wickets. One more and he will pass the Australian great and become the leading pace bowler in Test cricket.
Cook and Anderson are such good friends, and the veteran seamer will really miss his former captain a lot. Not just in terms of the presence in the dressing room, but being away on tour – looking after each other when you're a bit down and homesick, going out and having meals together.
Those two, along with Stuart Broad, are the same sort of age and vintage. Anderson and Broad will miss Cook enormously.
The match is set up perfectly for Cook, standing at first slip, to take the catch that gives Anderson his outright record tally. It would be ridiculous – and yet fitting, wouldn't it? Although my money is on the catch, if and when it comes, being taken at second slip!
Such was the emotion of the day, I almost feel sorry for current England captain Joe Root because, in a way, his 125 is the most forgotten hundred he will ever make.
It was an important innings for him – he hadn't passed 50 in eight knocks – and he needed the runs. It was almost like a passing of the baton between him and Cook, the new captain and the departing one, as they batted together for 259 runs.
This Monday was, ultimately, a very happy day. When Cook made the hundred, that was the emotional part – the release of all the tension.
I thought his departure was quite a happy moment too. Everyone was just pleased he had batted so well.
He has chosen his time to go, he's finished with a huge hundred, and he has underlined once again what an extraordinary player he is.
But I'll be sorry not to see Cook in an England sweater again – and I will be sad when he walks up those stairs for the final time.
Jonathan Agnew was talking to BBC Sport's Amy Lofthouse
from Trusted eNews https://ift.tt/2x3adlV
via IFTTT